Cognitive Behavioral Therapy
Cognitive Behavioral Therapy (CBT) is typically a time-limited approach and is based on the idea that our thoughts cause our feelings and behaviors, not external things (like people, situations, and events). Thus, we can change the way we think in order to feel or act better, even if the situation does not change. There is empirical evidence that CBT is effective for the treatment of a variety of problems, including mood, anxiety, depression, eating, substance abuse, and OCD and OCD spectrum disorders (BDD, Trichotillomania, etc.)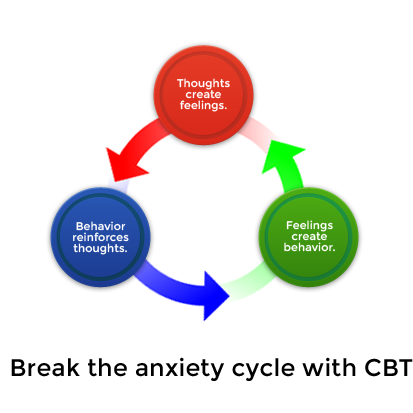 Treatment includes homework assignments where each week therapeutic techniques learned in your session are put into practice in everyday life situations. Progress toward the goals that we have identified for you is tracked and additional coaching in making changes is provided. The following diagram gives you a flow chart of what you will be doing to understand and then change your self limiting patterns of behavior and/or beliefs.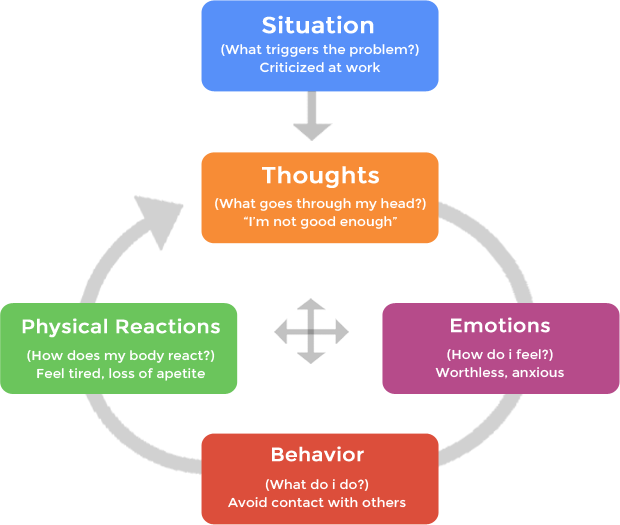 In the above example therapist and client learn more about how perceived criticism can turn into a pattern of negative self talk and both physical and emotional distress. Once recognized, various ways of changing this pattern are introduced by the therapist and worked on by the client. This process can help clients to achieve a healthier and more satisfying way to live their lives.
Call me at 314-644-3339 in order to learn more about how I might utilize CBT in your particular situation and/or to set up an appointment. Together we can develop a plan to suit your needs.
Learn More :
Cognitive Behavioral Therapy (CBT) For Kids